Calling all parents and preschoolers! 🧡 Our OLR Storytime Playgroup is back and better than ever for Term 4, and you won't want to miss it! 📖✨
🗓️ Save the Dates:
📌 October 23rd
📌 December 4th
Our Storytime Playgroup is the perfect opportunity for your preschool aged child to immerse themselves in the magical world of books and stories while making new friends. 📚👫
🤩 What to Expect:
📚 Interactive Storytelling
🎨 Creative Crafts
🎵 Sing-Alongs
👶 Fun for All Ages at Playgroup
But wait, there's more! 🌟 To secure your spot, simply register via the QR code or Link today. In order to make sure we have enough art supplies, please be sure to register! Don't miss out on this wonderful opportunity for your little one to learn, grow, and have a blast! 🌈🎉
Stay tuned for more details and surprises as we count down to these exciting dates! Share the news with your friends and let's make Term 4 unforgettable together. See you there!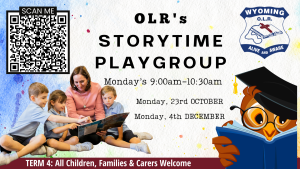 📆📢 #OLRStorytimePlaygroup #Term4Fun #FamilyTime #ChildhoodAdventures 📚👨‍👩‍👧‍👦🎨🎉
Register to secure your spot!